June 28th, 2017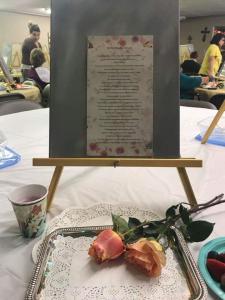 Somethin fun yet meaningful that I believe God has placed in my heart to do is prayer painting classes where we paint paintings that represent our prayers. The fun part is that we use rose petals as our brushes to accomplish these soft abstract paintings.
The first class was held at a small church in Springtown, TX, and we had 36 students to kick off this cool idea. We all had fun and already have 2 more classes coming up.
I am hoping to facilitate this prayer painting experience to upcoming ladies retreats and church ministry fellowship activities in the future.
September 29th, 2015
I had a great weekend at the Paradise Main Street Festival in Paradise, TX, where several local artists brought their beautiful art for display. I was honored to have received the People's Choice Award and also to get better acquainted with the artists in my town. I am hopeful to enter more shows this fall.
July 29th, 2014
This week I am challenged with some new art that I am really enjoying. A very successful friend of mine in the photography business has asked me to paint a baby for a greeting card. So far it has been a very enjoyable experience and I am really hoping to do more of this work. If she likes it , she will incorporate it into her photograph and we will have a very cute card to submit to Leanin' Tree card company. I cannot show you the art work here, but look out for Bubba's Adventures. I think it's going to be a hit.
September 7th, 2012
For the past week, I have been enjoying painting with oils a picture of a buffalo bull. I took this photo on a hot summer day and played around with it on Photoshop until I had an image that really appealed to me. You can see and order a print of this photo here. It's called " White Buffalo Ghost." This is a painting in which I have broken the rule I have always been taught: never use straight black paint. But I just couldn't help myself. It is so beautiful. So keep your eyes peeled for my White Buffalo Ghost painting and in the mean time, enjoy the digital art of it. Happy painting!